Laura Torres Drives Bigger
City Volkswagen of Chicago is once again a DealerRater Dealer of the Year. And for most, that would be enough. Yet City's Salesperson of the Year Laura Torres is different.
What others see as excellence, Laura sees as expectation. What others see as a job, she sees as a privilege.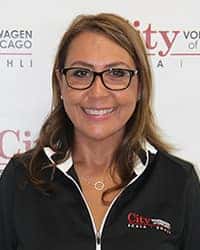 For example, City was classified as essential amidst the Coronavirus Pandemic, and day after day, it was Laura who called that designation a chance to help others in a time of need. Even more, as Covid cases began rising in early 2020, Laura handed out notebooks to her peers in the dealership and with a note left in each asked them to log their good deeds.
In other words, she asked her team to pass their privilege unto others.
She would drop notes urging people to maintain their "acts of random kindness" and did her best to lead by example. The effort went on for months, the team's pride continued to surge, and soon enough it didn't seem the notebooks would last.
But then it was the holiday season, and rather than continuing her push, she asked the group to rip from their books a page with at least three deeds.
Today, you can find those pages blessed, framed, and mounted at the dealership, you can call them a reminder of just how easy it is to do good, and maybe most importantly, you can remember Laura Torres not only as someone to try and live like, but also as the winner of Volkswagen's extremely prestigious 2020 Drive Bigger Award.